Purchase Yakima

Grass-Fed Angus
We offer our 100% grass-fed and finished, slow grown, Angus beef once a year in mid August, which coincides with the growing season of the native grasses for optimal weight gain in the cow.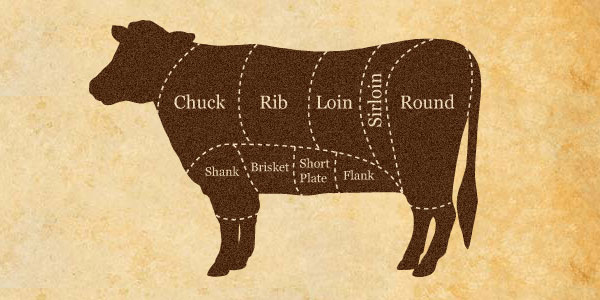 You can purchase our beef by the Eighth, Quarter, Half or Whole. Because by nature animals vary in size, so do our Angus. Therefore, we can't give you an exact weight, only an approximation. We encourage our first time customers to partner with friends and family in the purchase. Our price per pound is based on the hanging weight.
Yakima Grass-fed Angus delivers its beef with no hidden fees. Our price per pound includes all processing and packaging fees. Your beef will arrive frozen, labeled, vacuum sealed, and double wrapped with a shelf life up to two years in the freezer without compromising the quality.
Yakima Grass-fed Angus offers the option of the "Traditional Beef Package"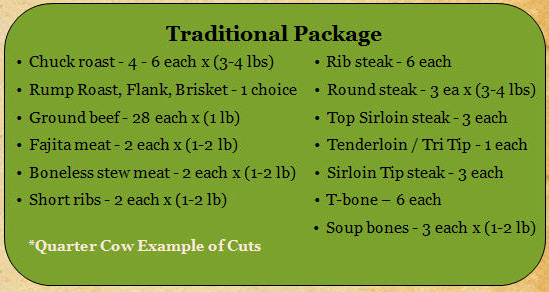 Or the option of the "Hamburger & Steak Package"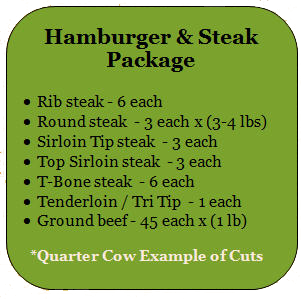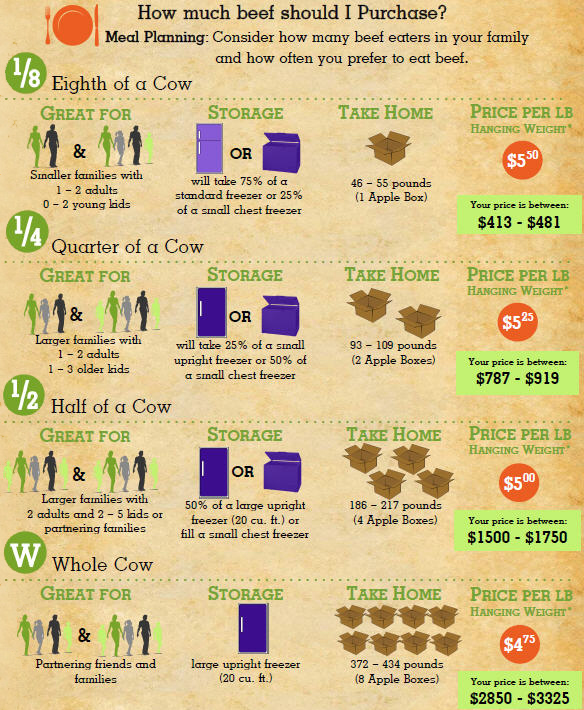 Ground Beef
American style Wagyu $8 lb.
Angus $6 lb.
6-10 year raised Angus $4 lb.
Steaks
Sirloin Tip Steak $12 lb.
Top Round Steak $12 lb.
Chuck Eye Steak $12 lb.
Skirt Steaks $13 lb.
Eye of Round Steak $13 lb.
Sirloin Flap Steak $ 15 lb.
Flat Iron Steak $18 lb.
Flank Steak $18 lb.
Top Sirloin Steak $18 lb.
Tri Tip Steak $18 lb.
Rib Steak (Bone in ribeye) $20 lb.
T-Bone Steak $20 lb.
Porterhouse Steak $21 lb.
Tenderloin Steak $27 lb.
Roasts
Bottom Round Roast $8 lb.
Top Round Roast $9 lb.
Sirloin Tip Roast $9 lb.
Chuck Arm Roast $9 lb.
Chuck Blade Roast $9 lb.
Brisket $9 lb.
Chuck Roll Roast $10 lb.
Sirloin Flap Roast $10 lb.
Eye of Round Roast $10 lb.
Tri Tip Roast $11 lb.
Also
Dog Bones $4 lb.
Soup Bones $5 lb.
Tongue $5 lb.
Liver $5 lb.
Heart $5lb.
Cheek $5 lb.
Oxtail $7 lb.
Short Ribs $9 lb.
Stew Meat $10 lb
Life on the Ranch:
• Calves are born in midsummer on lush, green pasture
• Calves nurse through the fall and winter
• After weaning, calves graze on our ranch's grasses, clover and alfalfa
Humane Harvest:
• When cows reach around two years of age, our locally sourced professional butcher visits
the ranch to harvest the beef
• They transport the carcass to a local cut and wrap facility, where the hanging carcass is
weighed* and hung for two weeks of dry-aging
•  Finally they cut, package, and freeze your meat
Beef Delivery:
• Each type of cut (steaks, roasts, etc.) is divided to ensure every order contains an
even distribution of cuts
• We deliver your frozen beef to the Seattle / Yakima area farmer's market for pick-up.  We can deliver to your door for $30.  If you'd rather pick up your order at the ranch, we'd be happy to give you a tour.
*The certified carcass weight is taken when the carcass arrives at the butcher shop; we base our pricing on this weight
now taking orders for

2021!
Please call to inquire about beef available now as we frequently have a small surplus on hand.
Email: You can order direct from the ranch by emailing your order to yakimagrassfedangus@gmail.com.
Mail: Simply download the Order Form, print it out and send it in for your guaranteed beef reservation.
Phone: We would be happy to take your call personally and accept payment over the phone via credit card.
Farmer's Market: Puyallup, (Sat. 9-2), Yakima (Sun. 9-2). We do accept major credit cards on site.
Once we receive your completed order form, your reservation is guaranteed.
Yakima Grass-fed Angus has been participating at these markets for the past five years.
Puyallup Farmer's Market
Located at Pioneer Park and Pavilion
330 S. Meridian
Puyallup, WA
Saturdays 9:00 am – 2:00 pm  (253)840-2631
Yakima Downtown Farmer's Market
14 S. First St.
Sundays 9:00 am – 1:00 pm  (509) 571-1328